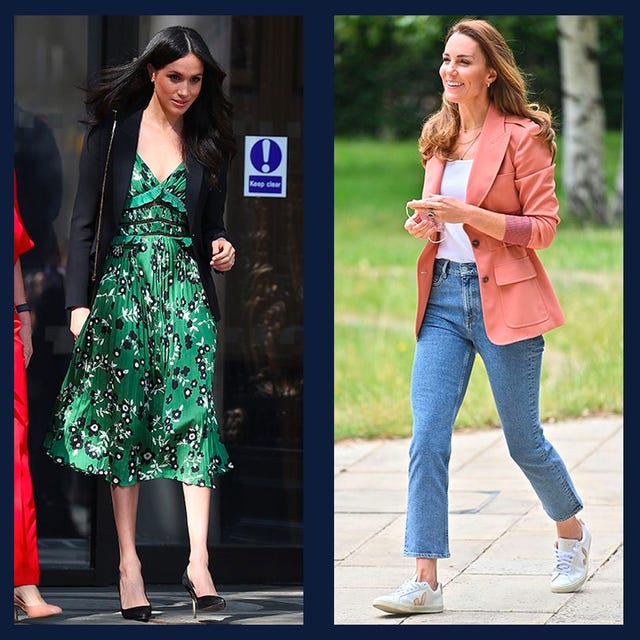 Getty Images
Ever since Kate Middleton and Meghan Markle married into the royal family, the duchesses have established themselves as two influential style icons with their own distinct looks. But even though they have very different tastes in fashion—Kate is conservative and classic and Meghan is more California cool-girl—there's a fair amount of overlap in the designers they specifically choose to wear. The Duchess of Cambridge and Duchess of Sussex share the same love for a variety of labels and companies ranging from fine jewelry to beloved fashion houses to everyday sneakers. Below, we share 12 duchess-approved fashion brands that both Kate and Meghan are fans of.
Advertisement – Continue Reading Below
Both duchesses have amassed quite a collection of designer shoes over the years, but a fresh pair of white sneakers is a staple in their closets. The two love this eco-friendly footwear company; Meghan wore her white and black kicks back in 2018 during the Invictus Games, while Kate followed suit with a white and gold pair in June 2021.
The royal style mavens are also massive fans of this Irish designer. Meghan chose to wear a dangly, floral-shaped pair of earrings during one of her final royal engagements in March 2020, while Kate opted for a more casual pair for a Wimbledon game the following year.
For spring outings, the duchesses have relied on Self-Portrait for seasonally-approved dresses. Kate looked fresh in a pleated, mint dress by the English fashion label while in The Bahamas in late March, and Meghan stunned in a floral dress, also by the brand, in April 2018.
Kate has been a fan of Monica Vinader for years, wearing pieces from a number of the brand's collections (here, she wore green earrings in May 2019). In recent years, Meghan has appeared in several virtual conferences and videos, also wearing jewelry by the brand. She often wears a bracelet as part of the stack on her wrist.
Both royals seemingly agree that Finlay makes some of the chicest sunnies on the market. Meghan opted for tortoiseshell shades for her first official outing with Prince Harry in 2017. Meanwhile, Kate recently broke out a similar tortoiseshell pair while in The Bahamas last March.
As far as more affordable brands go, & Other Stories is a favorite for the two. Kate loves the Swedish fast-fashion brand's jeans, which she's worn over and over again, and Meghan is a fan of the label's button down shirt, which she wore in October 2018.
The ladies fancy themselves a bit of Erdem, too. Just two months after a then-pregnant Meghan stepped out in a custom, emerald coat by the English label in March 2019, Kate wore this floral maxi for a flower show.
It's no secret Kate is a long-time devotee of Alexander McQueen. Her unforgettable wedding dress was designed by the luxury fashion house, and she has since stepped out wearing many pieces from the brand, including this white number last month. But Meghan has turned to the designer for public events, too. Here, the American royal chose to wear a suit by the brand in February 2018.
For formal events, Kate swears by Emilia Wickstead's designs. (She wore this turquoise midi while arriving to the Bahamas last month.) Meghan, though, has also counted on the designer—specifically for her very last outfit as a working royal. At her final event in March 2020, she opted for a statement-making, green cape dress.
This content is created and maintained by a third party, and imported onto this page to help users provide their email addresses. You may be able to find more information about this and similar content at piano.io
Advertisement – Continue Reading Below
Go to Source
Author:
Date: April 10, 2022, 4:00 am